Backlinks are links that connect an external site to your website and is a significant ranking factor for most of the search engines.
The relation between backlinks and Google ranking is direct. This implicates the more the number of backlinks will be there, the better the website ranking will be. A website is found on Google's top pages will have not less than 40000 backlinks.
That's right! You read it correctly. & Yes, it will take years to build them!
So, what should a small website with a low count of pages do? Well, don't worry, we have some new SEO hacks for a minute rather tiny website with no backlinks for how to get into google ranking.
There are various ways by which you can build backlinks, and you don't have to be famous for it.
Content! Original Content and Great Content
If the content is excellent and it is originally generated, it stays on top for long in google ranking. The material has to be useful, updated, provoking, engaging, and certainly actionable.
It is not a good idea to rephrase the existing content from the internet. When we say useful and updated, it has to be updated with some new opinions or findings; otherwise, there won't be any different from what everyone is doing.
The writer also likes to promote the content, images, and phrases which are engaging and provoking. They tend to ignore dull and boring content.
Original research and analysis are done on the primary level to help you attain more value, and your content becomes more important than secondary examinations.
Indeed! You will acquire a backlink in no time.
Get Creative! Invest in a good creative team
Graphs, Pie Charts, and Infographics seek great attention of readers as they make the concept more understandable in one view. Readers love visuals, and content promoters tend to share them more often.
They make your work one step easier as they (content promoters) themselves search for infographics to share on their website.
Hey, you have achieved some more backlinks.
There are a lot of design sites that offer to make infographics at a very minimal price. In case you are not looking to hire anyone.
Building Relations and Using them with Mutual Interest
Write Testimonials.
Commenting and engaging on different relevant blog posts.
Stay active in social media.
Join relevant communities and groups online with active participation.
These are a few ways by which you can establish a relationship in your industry and make your name known to whom bloggers would like to associate.
This is not a one-time process. It needs to begin since the commencement of your business, and it shall be part of your daily activity.
Active bloggers spend a big chunk of their work schedule in building associations, reading and replying to comments, and are open to read and listen to new stuff.
They love to connect with experts in the industry. So, start exhibiting and setting yourself up as the one with active participation.
If you are too smart, you can insert a backlink in your comments only without displaying it as a backlink. Do not do it every time. Let it go with the flow.
All these combined forms an excellent recipe for building a backlink.
Conclusion
It's not that difficult for a new born to establish themselves. Remember, everyone was born someday or the other and have established themselves.
While building an SEO strategy, it is essential to bifurcate individual tasks in SEO and develop a separate and robust strategy around them.
A backlinking strategy will only be successful by building relationships.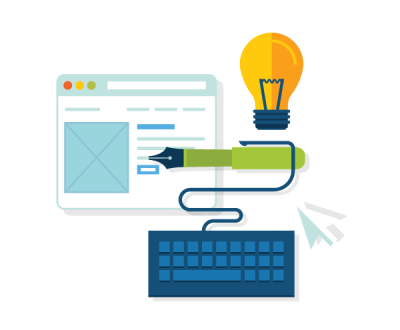 Content is the heart of any successful digital marketing campaign. It becomes…